Overhead travelling cranes
---
Lightweight mobile gantry
---

At a glance
With our lightweight mobile gantry (LPK) you can easily lift loads of up to 2 t. The ABUS LPK can be moved easily and is therefore always available wherever you need it, quickly and efficiently.
Load capacity (SWL) up to 2000 kg
Total height up to 5000 mm
Total width in accordance with load capacity (SWL):

Load capacity (SWL)

max. total width

250 kg
500 kg
800 kg
1000 kg
1250 kg
1600 kg
2000 kg

7900 mm
7000 mm
6500 mm
6300 mm
5650 mm
5000 mm
4000 mm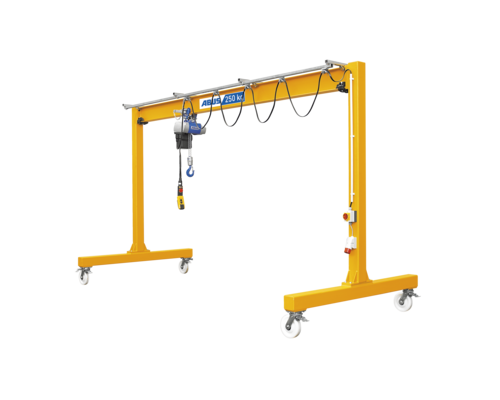 Interested in this product?
Then request now for an offer!
LIGHTWEIGHT MOBILE GANTRY
The ABUS lightweight mobile gantry: Strong performance and high mobility
A lightweight mobile gantry promises maximum performance whenever you need it. The flexibility and mobility of the ABUS mobile gantries are their greatest advantage. They are generally used whenever occasional lifting of loads is necessary, the crane performance is needed at multiple workplaces or the installation of a slewing jib crane or overhead travelling crane would not be a practical solution.
The mobile gantry promises you maximum performance without limiting the rest of your indoor operations. It is easy to move and, thanks to its practical design, can easily travel over workplaces. During design you can specify the height and width of the gantry, this means the lightweight mobile gantry perfectly meets your individual requirements.
We manufacture your lightweight mobile gantry in height and width according to your individual requirements. The maximum width (maximum beam lengths) is 7900 mm (depending on the load capacity), the maximum height is 5000 mm and the maximum load capacity is 2000 kg.
Our lightweight mobile gantry is always quickly on hand
The ABUS lightweight mobile gantry is equipped with four steerable wheels and two 90° direction locks (with wheel stop and swivel stop) as standard. This makes it possible for just one person to push the LPK to its workplace by hand. The wheels have a diameter of 200 mm and are made of high-strength polyamide.
Lightweight mobile gantries can be used for a wide range of applications. Whether it is used for repair work, as a workshop crane, for changing moulds on plastic injection moulding machines or in storage technology - this mobile gantry crane is quickly on hand anywhere it is needed. Our ABUS LPK is not only mobile, but also particularly stable and powerful thanks to its solid section main beam.
The lightweight gantry cranes are equipped with our tried and tested ABUS hoist, of which thousands of units are currently in use in the market: Our electric chain hoist is available with either a manual or an electric trolley and can have the power supply as either a festoon cable or a conductor system.
Lightweight mobile gantry from ABUS Crane Systems
For many years, we have been one of the leading manufacturers of crane systems and components. In addition to modern, high-quality cranes and hoists, ABUS offers you professional services. We are happy to offer installation, testing and commissioning and then later on the maintenance and repair of your crane systems.
Additionally, we offer you further crane technology and hoists, such as a wall-mounted jib cranes with a load capacity of up to 5 t or floor mounted pillar jib cranes with a load capacity of up to 6.3 t and a jib length of up to 10 m (depending on the load capacity) or alternatively overhead travelling cranes of up to 120 t.
Simply arrange a non-binding consultation. The responsible ABUS contact person will be glad to advise you on your options for using a lightweight mobile gantry.