Single girder overhead travelling crane
Underslung overhead travelling crane
Overhead travelling cranes
---
Double girder overhead travelling crane
---

At a glance
SWL up to 120 t.
Spans up to 42 m (SWL dependent).
Additional features can be easily added.
Fast long and cross travel speeds possible.
Intelligent functions—an option with the crane control ABUControl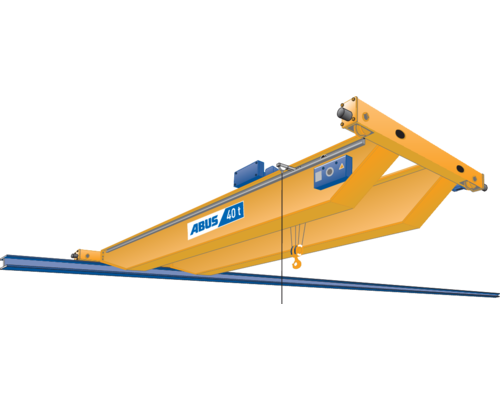 Interested in this product?
Then request now for an offer!
DOUBLE GIRDER OVERHEAD TRAVELLING CRANE
Double is stronger! If you need to transport heavy loads of up to 120 t across large areas then ABUS double girder travelling cranes are your first choice. Like all ABUS gantry cranes, they integrate well into different building structures, whether new or existing, thanks to various main girder connection options. ABUS double girder travelling cranes guarantee continuously high functionality, flexibility and ease of operation.
In addition, ABUS accessories and components offer a wide variety of specialised equipment for certain applications. ABUS double girder travelling cranes type ZLK feature welded box girders. All sections used for main girders and end carriages are computer-optimised for high performance and low weight, benefits that pay in terms of strength and cost efficiency.
ABUS double girder travelling cranes are available for spans of up to 42 m and feature the versatility needed for special requirements. For example, faster long travel speeds, maintenance platforms, crab units with walkways and auxiliary hoists are all features that can easily be implemented.